eNPure...Your Single Source Solution for:
EcoSAFE™ Solid Feed Cooling Water Treatment Programs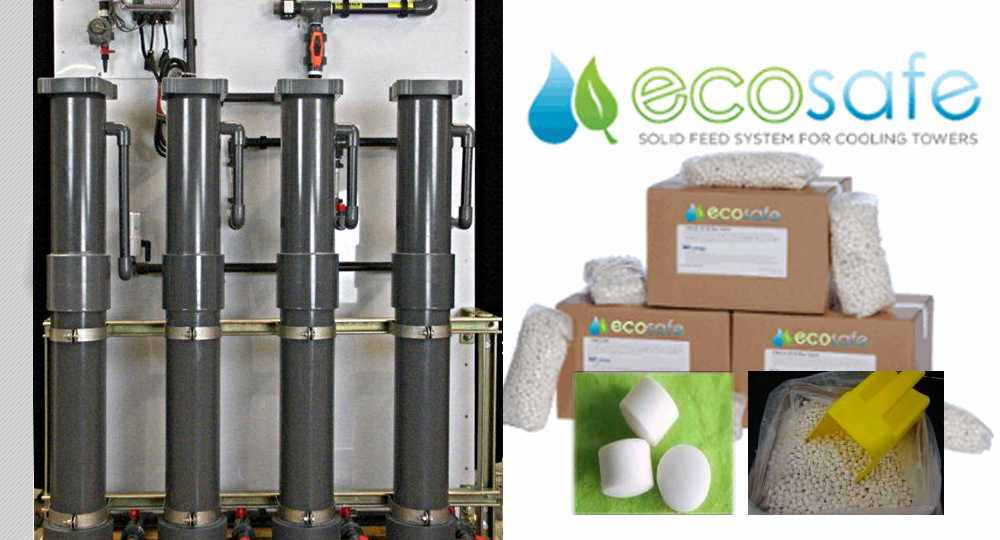 Protect your Cooling Tower with EcoSAFE™ Solid Feed Chemistry ... and reduce your carbon footprint by 75%. Smart Release™ technology delivers controlled and consistent dosing; Avoiding the overfeeding and underfeeding issues of the past.


DON'T BE CHALLENGED WITH CONFLICTING RESPONSIBILITIES.
BE SAFE WITH ECOSAFE™ SMART RELEASE™ TECHNOLOGY.

APPLICATIONS
Hospitals
Medical Centers
Commercial Institutions
"Green" Technology Plants
Hotels / Office Buildings
Be safe like many of eNPure customers who have switched to SMART Release Technology.
EcoSAFE™ is a "Green" cutting edge technology which uses solid chemistry to control corrosion/ deposition, microbiological growth, and biofilm in your cooling systems.
Facility managers are increasingly challenged with conflicting responsibilities of prioritizing employees' time, health, safety, and complying with regulatory restrictions while controlling corrosion/deposition, microbiological growth, and biofilm in your cooling systems. Sound like an impossible challenge?
EcoSAFE™ solid water treatment technology eliminates that conflict by providing a complete, cost- effective, safe, and consistent way to treat your cooling towers.

KEY BENEFITS
RELIABLE CHEMICAL TREATMENT.
NO FEED PUMP FAILURES OR POWER OUTAGES
TO INTERRUPT CHEMICAL RELEASE.
REDUCED PROGRAM COSTS.
HIGH ACTIVE INGREDIENT LEVELS, NO CONTAINER DISPOSAL
ISSUES, SHIPS AS NONHAZARDOUS CHEMICAL.
IMPROVED PROGRAM SAFETY.
DRY CHEMICAL ELIMINATES RISK OF HANDLING LIQUID
CHEMICALS AND SPILLS, ENVIRONMENTALLY SAFE.
(LOWER TOXICITY THAN ASPIRIN TABLETS)
EASY PROGRAM SETUP.
FEED SYSTEM INSTALLS IN LINE WITH MAKEUP OR
RECIRCULATING WATER, OR TABLETS CAN BE PLACED IN
THE BASIN FEEDER.
IMPROVE YOUR LEED STATUS.
SMART RELEASE™ CHEMISTRY CAN ALSO HELP YOUR
FACILITY ACHIEVE YOUR SUSTAINABILITY AND LEED GOALS
BY REDUCING YOUR OVERALL CARBON FOOTPRINT.
eNPure's Cooling Water Treatment Solution's experts utilize advanced and proprietary process design and engineering solutions to help you with your Cooling Towers, Chillers, Heat Exchanger and associated piping requirements.
You can now benefit from the environmental, health, safety, and performance improvements gained by utilizing Smart Release™ technology.
EcoSAFE™ Solid Feed System is a simpler, safer, greener, more reliable means to deliver scale, corrosion, and biocide protection for cooling towers and other related applications. The secret lies in a diffusion-based coating and membrane technology which provides the controlled release of the treatment chemicals contained within. The EcoSAFE™ Solid Feed System is a U.S. Green Buildings Council LEED Certified non-hazardous system that provides a reliable and controlled release of scale inhibitors, corrosion inhibitors, oxidizing micro-biocides, or non-oxidizing micro-biocides to cooling systems over a 30-day period between service intervals. EcoSAFE™ Solid Feed systems are more economical for up to 5000 ton cooling towers than conventional feed technologies. Larger systems may also benefit economically and will depend on each unique situation. Please call an Enpure representative to evaluate your unique application.
EcoSAFE™ comes in two forms: Inhibitor Tablets utilizing a patented polymer coating technology by "Smart Release™" and Biocide Canisters containing solid chemicals utilizing a patented membrane technology. Both the tablets and the canisters are fed through standing tube feeders.
Water enters the feeder at the base and interacts with the tablets or biocide canisters which are filled with solid chemicals. Diffusion based on mass transfer and osmotic pressure occurs when water enters the tablet's polymer coating or the membrane in the canister. Once inside, the water activates the chemicals creating a slurry. Osmotic pressure is formed in the tablet coating or the membrane causing it to swell. The chemicals are then forced out through the polymer coating of the tablets or the membrane in the canister and into the system.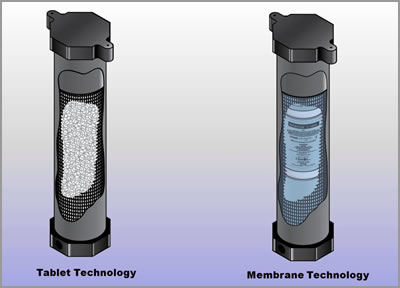 SAFE DISPOSAL
Exhausted EcoSAFE™ tablets and canisters are safe to dispose of into normal solid waste collections.
Safe and easy disposal into normal
solid waste area
Tablets contain no heavy metals
Fully exhausted tablets leave only
insoluble materials
Materials are completely non-toxic
and non-hazardous
EcoSAFE™ CHEMICALS AVAILABLE
Corrosion inhibitors
Scale inhibitors
Biocides