eNPure...Your Single Source Solution for:
Reverse Osmosis Iron Fouling/Scalant Control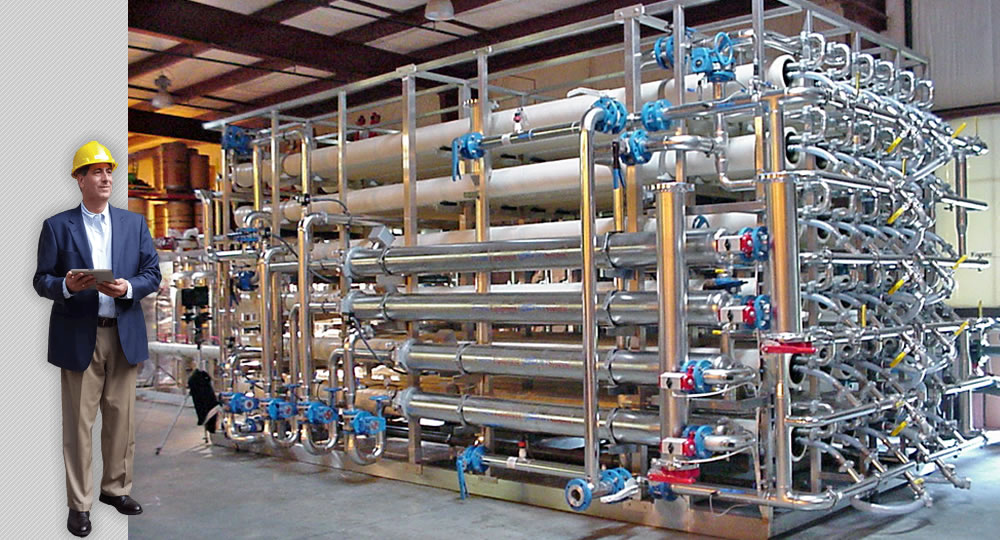 eNPure's AS-156 inhibits scale deposition and biological fouling in Reverse Osmosis feed waters containing high levels of soluable iron (Fe+2). Increase Reverse Osmosis recovery rates, decrease membrane cleanings, and membrane replacements with AS-156.


CONTROL THE IMPACT OF BIOLOGICAL FOULING AND INORGANIC SCALING DUE TO THE PRESENCE OF FERROUS IRON IN REVERSE OSMOSIS FEEDWATER
APPLICATIONS
Surface waters with variable turbidity
Ground waters with high fouling tendencies
When ferrous iron is present in source water, it promotes biological
fouling and inorganic scaling of reverse osmosis membranes.
Iron inhibits the performance of most anti-scalants, which causes
increased dosing levels to prevent the precipitation of calcium and
magnesium salts.

The adverse effects are decreased reverse osmosis recovery rates,
increased dosing amounts of anti-scalant, and more frequent membrane cleanings and replacements.


ADVANTAGES OF ENPURE'S AS-156

DESIGNED FOR FEED WATER WITH MODERATE LEVELS
OF IRON UP TO 5 PPM Fe+2 (FERROUS IRON)

CONTROLS CaCO3, CaSO4, BaSO4, SrSO2,
AND SILICATE SCALE

DISPERSES METAL OXIDES AND INORGANIC
PARTICULATES LIKE SILT AND CLAY

STABILIZES METAL IONS TO PREVENT METAL HYDROXIDE,
METAL PHOSPHATE, AND METAL SILICATE PRECIPITATION

INCREASES REVERSE OSMOSIS RECOVERY RATES

DECREASE AMOUNT OF MEMBRANE CLEANINGS
AND MEMBRANE REPLACEMENTS

INCREASED REVERSE OSMOSIS UPTIME

LOWER DOSING LEVELS THAN
OTHER ANTI-SCALANTS


eNPure's water treatment experts can help you prevent fouling and scaling in Reverse Osmosis Systems utilizing advanced and proprietary process design and engineering.
The below graph is from a case study comparing anti-scalants available in the market, which was performed to prove the impact of ferrous ion oxidation on silica scaling in reverse osmosis systems. It shows that Enpure's AS-156 prevents almost all precipitation which causes scaling in reverse osmosis systems.