eNPure...Your Single Source Solution for:
EcoSHIELD™ Protective Boiler Feedwater Treatment Programs

Protect your Boiler with EcoSHIELD™ a complete amine emulsion film system to prevent corrosion and scaling. EcoSHIELD™ is a nontoxic, cost effective, and designed to eliminate the need for multiple treatment products.


PREVENT AND CONTROL SCALING AND FOULING IN BOILERS WITH ECOSHIELD™
APPLICATIONS
High and low pressure boilers
Boilers with turbines
Boilout
Wet conservation of boilers
Industrial and district heating networks
EcoSHIELD™ is a simple, efficient, nontoxic, cost effective treatment
solution designed to prevent corrosion as well as remove and prevent scale, eliminating the need for multiple products such as
corrosion inhibitors, scale inhibitors, and oxygen scavengers.


KEY BENEFITS

ELIMINATE CONDENSATE CORROSION WITH BOTH
FILMING AND NEUTRALIZING AMINES, UTILIZING CHEMICAL
AND PHYSICAL PROTECTION

REDUCE BLOW-DOWN:
ECOSHIELD™ DOES NOT INCREASE THE SALINITY OR OVERALL TDS LEVEL IN THE BOILER, AS IT IS NOT A SALT

REDUCE OR ELIMINATE CORROSION WITH LOW FEED-WATER TEMPERATURE (140F), HIGHLY OXYGENATED WATER, AND/OR WHILE THE BOILER IS LAID UP OR OFFLINE

FEED AND CONTROL SIMPLICITY:
ONE PRODUCT, ONE TEST. NON- TOXIC AND
ENVIRONMENTALLY FRIENDLY

PREVENT AND REMOVE SCALE

ECONOMICAL


Enpure's Boiler Feedwater Treatment Solution's experts utilize advanced and proprietary process design and engineering solutions to help you with your requirements.
EcoSHIELD™ is an amine emulsion that forms a monomolecular film adsorbed on all internal metal surfaces. The functional amine group in the EcoSHIELD™ is hydrophilic and attaches to wetted surfaces; the tail end of the chemical is hydrophobic and protects metal surfaces from corrosive condensates.
THE AMINE FILM CONSTITUTES A CONTINUOUS BARRIER BETWEEN WATER AND METAL, PREVENTING CORROSION OF THE SURFACE WHILE IMPROVING HEAT TRANSFER CAPABILITIES
IT DISPERSES SCALE FORMING SALTS AS THEY OCCUR, WHILE LOOSENING AND LIFTING EXISTING SCALE
pH IS CONTROLLED BY NEUTRALIZING AND ALKALIZING AMINES
OWING TO IT'S HYDROPHOBIC NATURE, ECOSHIELD PROMOTES NUCLEATE BOILING. IT CREATES A MUCH THINNER FILM THAN ANY OTHER TECHNOLOGY, IMPROVING HEAT TRANSFER
THE CLEANING EFFECT ON THE METAL SURFACES HELPS TO REMOVE OLD DEPOSITION AND BUILD THE MAGNETITE LAYER, WHILE FILMING THE COMPLETE SYSTEM
IT IS A STABLE LIQUID THAT DOES NOT BREAKDOWN UNDER THE STRESS OF PRESSURE RESTRICTIONS OR TURBULENT FLOW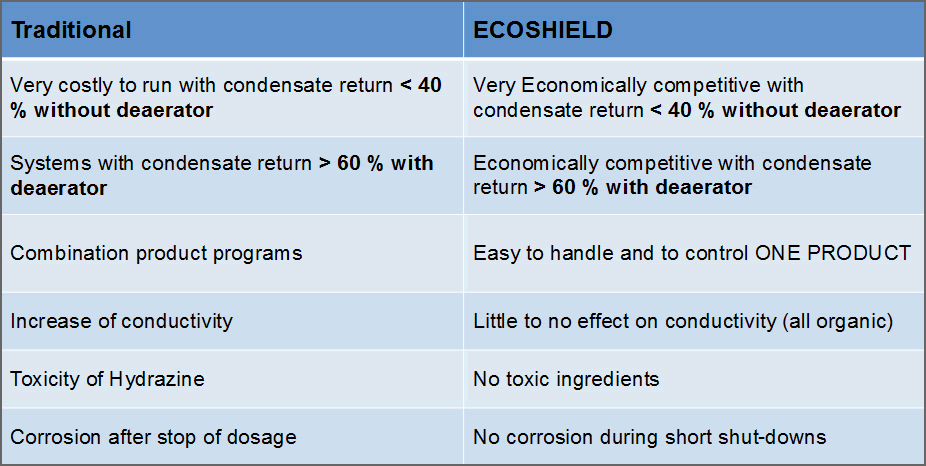 EcoSHIELD™ boiler programs have FDA approval and can be used in systems up to 2500 psi as an all-inclusive boiler treatment program. The volatile components of the program film and neutralize the complete system, preventing corrosion within the steam and condensate return lines.
Dosing is proportional to the make-up water instead of the feed water, because the returning condensate always carries some residual EcoSHIELDTM available for reuse. Short, small daily doses reduce the potential for operator chemical exposures. Because the amine emulsion replaces several products, is in concentrated form, and requires only small quantities, the dosing equipment and storage space are minimized. In addition, EcoSHIELD™ is a green technology; Typically, continuous treatment is not required and there is no detectable discharge to the environment. All undetectable discharges are completely biodegradable.