eNPure...Your Single Source Solution for:
Membrane Contactors Designed for CO2 Removal Solutions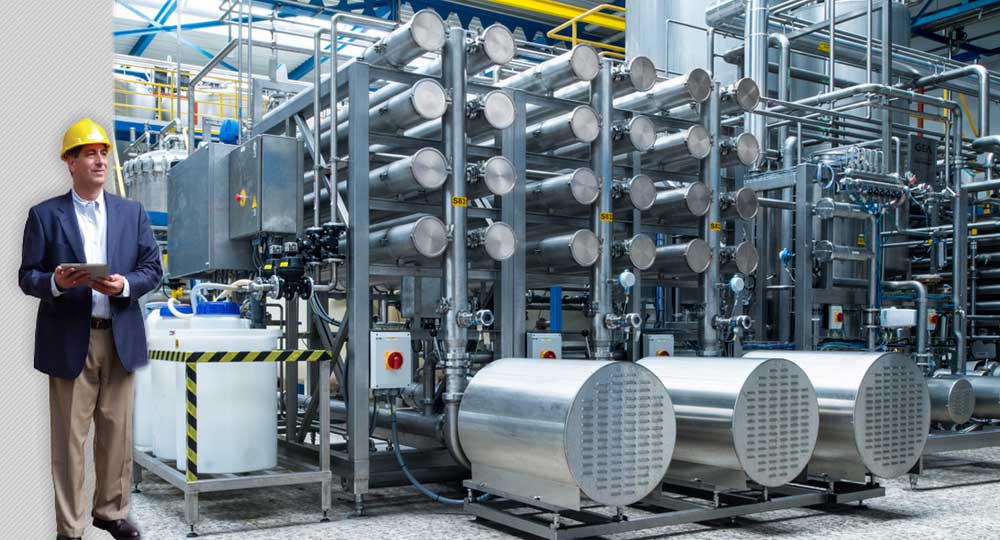 Remove CO2 inline under pressure without contaminating the water with contaminates in the air. Membrane Contactors achieve low dissolved gas concentrations and operate with less chemicals to other degassing methods.


MEMBRANE CONTACTORS CONTAIN 10X THE SURFACE AREA OF CONVENTIONAL DEGASSING TOWER AND OCCUPY A MUCH SMALLER FOOTPRINT.

APPLICATION INCLUDE:
Condensate Return ahead of Mixed bed polishing
Reduction on anionnic load between cation and anion exchanger
Chemical Processing and Refining
Boiler Feedwater
As water treatment technologies have evolved from Cation-Anion exchange systems to RO·mixed bed and RO-EDI, gas removal technologies play an even greater role in achieving water quality targets and treatment efficiencies. Membrane contactor systems can remove carbon dioxide (and oxygen) to extremely low levels and without introducing contaminants, reducing the ion exchange regeneration frequency and the load on EDI cells. Not only is chemical consumption minimized, but capital expenditures and permitting requirements on downstream processes are further reduced.


BENEFITS OF MEMBRANE CONTACTORS

SMALL SIZE - 10X THE SURFACE AREA OF
CONVENTIONAL DEGASIFIERS

FIT INSIDE OF EXISTING BUILDINGS

FAST EQUILIBRIUM MEANS QUICK START-UPS

LOWER INSTALLATION COSTS

DIFFERENT CONTACTOR SIZES AND MATERIAL
OPTIONS PROVIDE TREMENDOUS FLEXIBILITY

WARRANTIES AVAILABLE FOR
1PPB O2 OUTLET AND 1PPM CO2 OUTLET

EASILY EXPANDABLE

MODULAR DESIGN OFFERS FLEXIBILITY FOR MEETING
FUTURE CAPACITY OR TIGHTER SPECIFICATION REQUIREMENTS O2, CO2 AND N2 CONTROL WITH
ONE DEVICE

TOTAL GAS CONTROL FOR QUICK RINSE


TechBrief 17 Carbon Dioxide

TechBrief 19 RO EDI

TechBrief 72 power

Decarbonator versus Liqui-cel Membrane Contactor Comparison

| | | |
| --- | --- | --- |
| | Decarbonator | Membrane Contactor |
| Outlet CO2 (ppm) | 5-10 | 1-5 |
| Transfer Pump Required | Yes | No |
| Barrier between water and gas to prevent cross contamination | No | Yes |
| Height 60 gpm system | 15 feet | 5 feet |
| Can operate over a wide flow range | No | Yes |
| Outlet Air vented at top of system | Yes | No |
| Weight | 3,400 lbs. | |
| Sump required | Yes | No |
| Modular | No | Yes |
| dB rating | ? | ? |
| Hot Water Sanitization | Yes | Yes |
| FDA listed materials | ? | Yes |